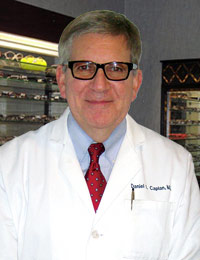 After receiving his Medical Degree from Tulane University School of Medicine, Dr. Daniel Caplan completed his Residency in Ophthalmology at the Ochsner Clinic in New Orleans. He is a former Vice-President and board member of the New Orleans Academy of Ophthalmology. He is a former Chairman of the Eye Department and Member of the Medical Executive Committee at East Jefferson General Hospital in Metairie, LA.
Dr. Caplan is a pioneer in Refractive Surgery and Vision Correction Procedures, having been among the first in the region to perform Radial Keratotomy in the early 1980's and Laser Vision Correction and LASIK in the 1990's. He has successfully performed thousands of Laser Vision Correction Procedures. He has taught the procedures to dozens of other Eye Surgeons and he has lectured throughout the country on Vision Correction Procedures.
He created a commercially produced computer software to track vision correction surgical outcomes. Dr. Caplan also specializes in Custom Wavefront LASIK and the new IntraLase ("blade-free") LASIK procedure.
Dr. Caplan is the Medical Director and CEO of the Caplan Eye Clinic. He is a member of the Clinical Faculties of the Tulane University School of Medicine and the Louisiana State University School of Medicine. He is the father of two children.