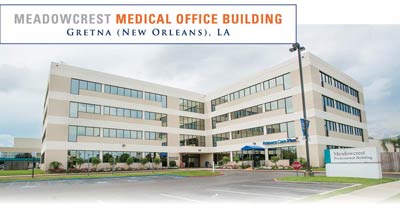 Our Gretna clinic is conveniently located next to the Ochsner in the Meadowcrest Office Building at 120 Meadowcrest Street.
Dr. Daniel Long, Dr. Brendon Sumich, Dr. Stephen Welcker and Dr. Brett Budden see patients at this location.
Dr. Daniel Long and Dr. Brendon Sumich are our Cataract Surgeons.
Dr. Brett Budden (Retina Specialist), Dr. George Ellis, Jr (Adult Strabismus and Pediatric Eye Diseases) and Dr. Crystal Le (Glaucoma Specialist) also see patients at our Gretna clinic.
Caplan Eye Clinic – Gretna
120 Ochsner Blvd, Suite 330
Gretna, LA 70056
Tel. 504-888-2600
(adjacent to Ochsner Meadowcrest Hospital)