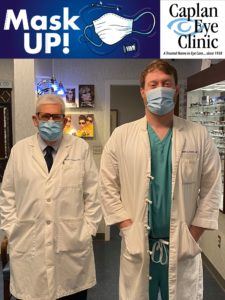 The Caplan Eye Clinic has your safety as our top priority, as we have remained open to service our patients and their medical providers with the very best in eye health and eye care in southeast Louisiana.
As part of our commitment to provide the safest environment for our patients, Dr. Daniel Caplan and Dr. Brendon Sumich are masked up, along with the rest of our staff for your protection.
If you have any questions or concerns about your future appointment, we would be happy to discuss our COVID-19 policies with you. For those who would feel less anxious and more comfortable during this time, please remember the Caplan Eye Clinic has continued with offering Telehealth eye exam services.
Call 504-888-2600 to schedule an appointment.